Tuition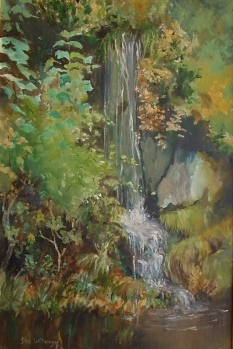 Classes in Holt (nr Wrexham), in the Kenyon Hall.
The classes take place every Wednesday from 1pm until 3.30pm.

Weekly demonstrations vary, and may be in oils, watercolours, or pastels.

Since there is plenty of time for individual tuition, students may either use the medium of the demonstration, or concentrate on the medium of their choice.

The fee is £44 for 10 sessions.

This class has spaces available. Beginners are very welcome.

Please email me for more details.
Programe for the current lesson series
I want to tackle Sketching, so please bring scrap paper and a biro so that we can do 15 minutes sketching before we begin painting. I suggest you keep your sketches together in date order (or at any rate with the date on them!) so that you can monitor your own progress. I shan't look at them!
| Date | Medium | Image |
| --- | --- | --- |
| February 1st, 8th, and 15th | Watercolour | The flower garden |
| February 22nd | Your choice | Finishing Off Day |
| March 1st, 8th, and 15th | Your choice | Tonal exercise |
| March 22nd, 29th, and April 5th | Mixed media | Re-interpreting the image from the tonal exercise |
Look for a good composition for your flower garden, they are so much easier to paint! Some formal element to complement the more free flowing flowers will help.
I will provide the reference for the tonal exercise (which will be white on white), and a tonal reference card to assist you. Choose the medium you are most comfortable with.
You have a totally free hand when re-interpreting the tonal image.