Tuition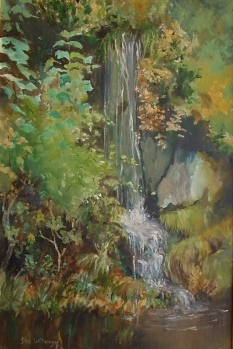 Classes in Holt (nr Wrexham), in the Kenyon Hall.
The classes take place every Wednesday from 1pm until 3.30pm.

Weekly demonstrations vary, and may be in oils, watercolours, or pastels.

Since there is plenty of time for individual tuition, students may either use the medium of the demonstration, or concentrate on the medium of their choice.

The fee is £45 for 10 sessions.

This class has spaces available. Beginners are very welcome.

Please email me for more details.
Programe for the next lesson series
We will continue to work at sketching, so please bring scrap paper and a biro as we did last term.
| Date | Medium | Image |
| --- | --- | --- |
| April 11th to May 2nd | Watercolour and Line & Wash | Close up of an interesting item. I am using the window of the Post Office at Farndon. |
| May 9th and 16th | Pastel | As above. |
| May 23rd and 30th | Your choice | Finishing Off days. |
| June 6th to 27th | Oil or acrylic | One of your own bridges of Dee! |
Look for a good composition - your painting will be so much easier if the composition works well. Look around and study the composition of your photo before you take it, rather than snapping everything and hoping one will work.
With all our drawing practice you should be able to sketch the view. That will make you work at composition!